Being new at work opens up a lot of questions. For Catherine, a Content Specialist in Berlin, one of those questions was whether joining Kuehne+Nagel in a home office environment with young kids would be a good fit.
In the summer of 2021, Catherine woke up around 5:46.
The time is not remarkable, but the day was. It was her first day working in logistics.
The first thing she did was open her right eye and then immediately tried to close it again. Then, two little chubby fingers grabbed her eyelid again with success.
"Mama?"
Long before the days of waking up with one eye pried open, Catherine would set two, sometimes three alarms on her phone to ensure she would wake up before 6:00. Now, her phone lay quietly somewhere in the morning twilight.
"Mama?" repeated the first alarm.
"Mama, can we go downstairs?" asked the second.
With her 1-year-old on her hip and her 3-year-old holding her hand, Catherine set off to prepare herself for her first day at Kuehne+Nagel.
For love and a new belonging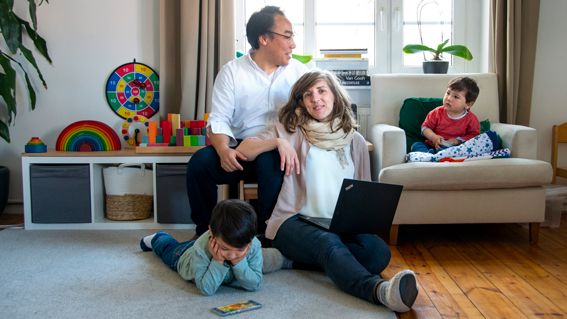 Before the days of having an alarm that physically opened her eyes, Catherine grew up playing on haystacks, driving a car down country roads at 15 years old, and working the ski lifts in Idaho, USA — a state famous for their potatoes and love of the mountains.
But the morning of her first day in logistics was in Berlin. A city known for being sexy and an infamous wall.
"I moved to Berlin for love and a Master's degree. My now-husband and I wanted to start this new chapter in Berlin together — which is nothing like Idaho, but definitely home for me. Both my kids were born here and it's the longest place I have lived as an adult," Catherine says with a smile.
Before joining Kuehne+Nagel, Catherine worked on temporary projects as a content creator and strategist. It worked well before kids and even after her first was born. But when she found out she was pregnant with her second child, the set-up didn't feel right anymore.
That was the end of 2019, shortly before the whole world would join Catherine's sentiment in re-evaluating their set-up.
First impressions of a career in logistics
"Honestly, I had never heard of them ... but I thought okay, logistics — that is a sector that matters. And it's a big global company? Even better."
2020 zipped by and dragged on in the foggy haze we all kind of remember as the first year of the pandemic. Catherine had her second baby and settled on the idea that she would go back to work full-time in 2021.
"I didn't know exactly what I was looking for. I knew I wanted to write, and I wanted to be in a sector that mattered. I initially looked at a lot of healthcare start-ups," she recalls.
Amongst the job ads for content creators at Berlin start-ups, one company that was anything but a start-up stood out: Kuehne+Nagel.
"Honestly, I had never heard of them ... but I thought okay, logistics — that is a sector that matters. And it's a big global company? Even better."
She applied, and smiled as she recalled the first phone calls with her recruiter: "He was really personable. I felt right away I was talking to a person I could be genuine with, so much so that when I didn't answer my phone right away when he called, I would tell him the truth: I was putting my kids down for a nap or wrangling them on the playground."
What pleased her the most is that there was no raised-eyebrow in his reply. Bringing her kids up during the interview process felt as normal as talking about her past professional experience. It was her first indication that this could indeed be a good fit for career and family.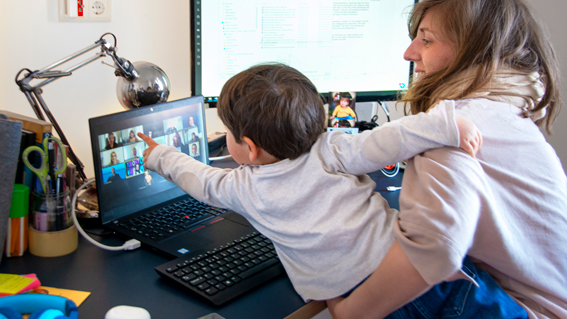 And as you know, she got the job.
Catherine's onboarding had one, in-person meeting scheduled on her first day. The rest would be online.
Her home office set-up was ready to go. She has a two-story flat and a separate work room where she can close the door. However, when her kids are home, they know where to find her.
"There were moments where I would be in a video call with my team, including my manager, or I would be presenting my first results for this big campaign I was working on when my kids would barge through the door demanding to play or sit on my lap."
And although it didn't happen all the time, it is a feature of working from home to have kids, cats or a doorbell delivery affect your work calls. For the moments her kids did enter her workspace, her colleagues took it in stride — putting on a bunny filter to say hello or embracing the opportunity to talk about their lives outside of work.
First months and a sense of belonging
"I see this as a career and not just a job. That was what I was looking for in a new work set-up."
A few months in, her manager planned a trip to Berlin to see the team. It would be her first time meeting him in person. As they walked to lunch together, they all started talking about their families. One of her colleagues was about to become a father and he wondered aloud what the first months would be like. Catherine jumped in sharing her experience, and her manager added how he and his wife balanced the child and work load when their kids were young.
"It was a nice moment," Catherine says. "Looking back, it was probably that conversation that got me thinking that all of me — my 'career me' and my 'family me' — could belong here."
She would get this message in different ways from different colleagues in the months to come: Trust. Trust that when people are asked to work from home and have young kids, that their commitment doesn't come into question — even if those kids don't wait until 5pm to come say hello. "I feel trusted here. That I am the expert in my field and in how I manage my work. That kind of flexibility is because people at Kuehne+Nagel take on a high sense of ownership to their work. It's a good culture for someone with a young family."
Summer of 2022 is around the corner, and Catherine is approaching her first year anniversary at Kuehne+Nagel. It's still a challenge, she admits, balancing work and family life, but the decision feels right to be here. "I see this as a career and not just a job. That was what I was looking for in a new work set-up. Plus, I really like what I do here. I get to write stories about people in logistics. I am talking with colleagues in Asia, South and North America and all over Europe on a regular basis. They are an ambitious bunch!"
An ambitious bunch indeed. Some of whom start their day with one eye pried open.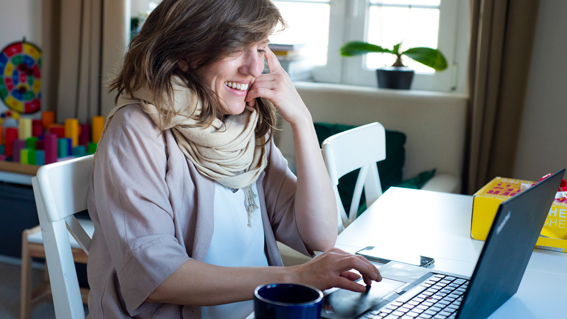 Catherine is a content writer. She has written copy on food waste prevention in Perishable Logistics, career stories about Key Account Managers, and has added an em dash (—) to many texts in her almost one year at Kuehne+Nagel.