What does logistics have to do with my groceries?
People around the world are picking up talking points about supply chains. From the infamous toilet paper disappearances to subtle comments at the supermarket:
When did lemons get so expensive?
Lychees are back in season!
Did you see avocadoes have laser engravings?
With such comments, shoppers take notice of the tug and pull of supply chain problems, their incredible connectivity, and the little surprises that, in fact, aren't so little.
All because they went grocery shopping.
Especially because they went grocery shopping.
"I know for Germany, there are some leading supermarkets that have discontinued some of their fresh products shipped by air," says Marloes.
'Discontinued fresh products by air' could be pineapples, avocadoes, dragon fruit, or a variety of melons that will ghost certain shelves in the German marketplace. Marloes explains that these select supermarkets are looking at their sustainable transport options for such products.
And voilà—a new supply chain topic appears.
"But apples and oranges should be fine for now," Marloes reassures. They are mostly shipped by sea.
Who is this Marloes?
She's not an economist or small business owner. But she does know a lot about why fresh products do or don't make it to the grocery shelves.
What a logistics expert can tell you about your fruit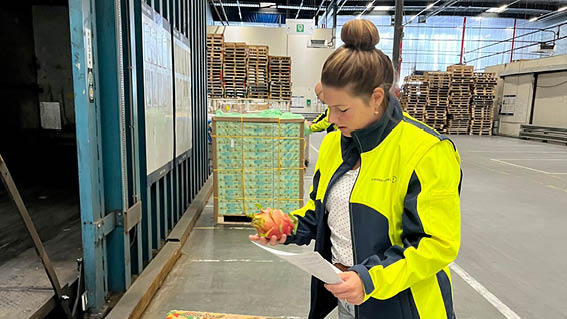 Marloes works on the business development side of logistics at Kuehne+Nagel. More specifically, she works with European importers who buy fresh products in bulk from abroad—think palettes full of lemons, lychees, or lettuce.
From there, the importers sell their palettes to wholesalers and retailers who then package and distribute the fresh product to your local supermarket.
These are the last few steps of the perishable goods supply chain. The final one being a fresh head of lettuce or a seasonal bag of lychee arriving in your kitchen.
Perishable goods cover an array of products from fruits and vegetables to flowers, chocolates, and freshly caught fish. If it's fresh, Marloes knows how it's moving around the world.
"Take pre-sliced mangoes," Marloes adds as an example. That convenient little snack stacked neatly in the supermarket ready to compliment your lunch.
They are quite the logistical challenge.
What you didn't know about your mangoes
"Pre-sliced mangoes are really a nice product because you see the result of your work when you buy them."
Once sliced, mangoes need to be in the supermarket the next day and ideally, eaten immediately or latest within three days.
It is a product like this where logistics bends over backwards for a fresh snack.
Marloes figured out for one customer, it makes the most sense to slice your mangoes in the country they're grown (South Africa), then put them on a plane (to Amsterdam), deliver to the wholesaler (her customer), who then delivers it to your supermarket (the wholesaler's customer).
All within a day.
"There's a lot of pressure to get it right because of its short shelf life," explains Marloes. "But this proposal to slice the mangoes at origin was a win for everyone."
Plus, she adds: "It's really a nice product because you see the result of your work when you buy them yourself at the supermarket."
And now, you'll see it too.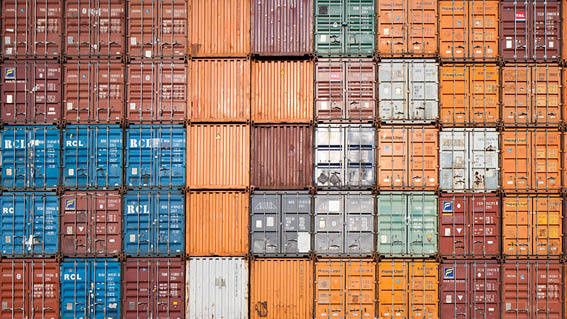 This is a series about people in logistics. From a perishables expert calculating the fresh delivery of your fruit to a semiconductor logistics operator arranging the save arrival of a chip for your new tablet. It's the role of logistics in your everyday life.
Read more stories like this here.