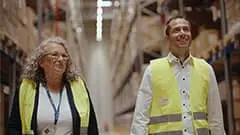 Y/Our work: Schleich
Delivering for a world of imagination.
Details capture the imagination of children. Often the small and seemingly insignificant is reason to pause, ponder and play. This love for detail—a wrinkle on an elephant's ear, the roaring mouth of a lion—is how Schleich designs and creates toys as a way to explore the natural world.
The design, production, and ultimately the shipping of these life-like toys is a journey. A journey that makes turns to implement sustainable practices and solutions across the whole supply chain. A journey that relies on strong partnerships that make a shared vision become true.
Y/Our work is a video series about the people we partner with and the trust we build in our collaboration: Your responsible work deserves ours.